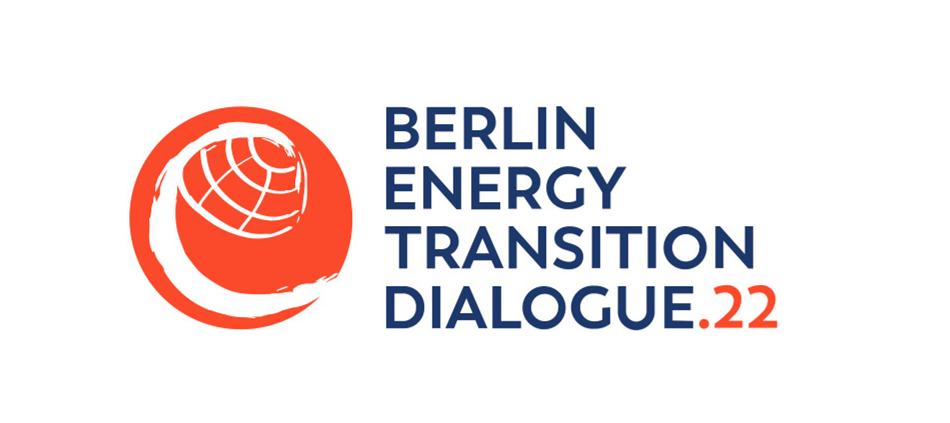 U.S.-German clean energy initiative Sun & Wind Belt puts spotlight on security
Business group's 2022 Berlin Energy Transition Dialogue Side Event addressed need to break energy dependence on Russia and move faster to renewables
29. March 2022, Berlin — The transatlantic business initiative Sun & Wind Belt launched its 2022 program with a U.S.- German roundtable event on Monday, 28. March, focused on building security through energy independence. Viewed live online by a global audience, the discussion was an official Side Event of the 2022 Berlin Energy Transition Dialogue, the German Energy Ministry's annual conference focusing on clean energy and energy independence.
Speaking at the event, former Austrian Chancellor Christian Kern underscored the Transatlantic Sun & Wind Belt's objective of strengthening U.S.-German partnership on renewable energy: "We need to build a U.S.-German supply chain," asserting that it is "of utmost importance to increase our [energy] independence."
In response to the Russian invasion of Ukraine and the growing public awareness of the risks of energy dependence on autocratic regimes, the Sun & Wind Belt brought together experts to examine the intersection of security and clean energy: Erin Sikorsky (Director of the Center for Climate & Security), Kern (currently Managing Director of the Blue Minds Company), Prof. Dr. Veronika Grimm (German Council of Economic Experts), Angelina Galiteva (Board Chair of California's grid operator ISO), and Rich Hossfeld (SB Energy CEO, member Softbank Group).
Coming from the public and private sectors, the speakers addressed the urgency of the energy transition and the breadth of solutions being implemented in both countries. The discussion also highlighted the extent to which Germany and the United States can accelerate adoption of renewables by sharing knowledge and working in tandem.
The event featured a keynote presentation by Prof. Sikorsky:
"In addition to preventing the most catastrophic security outcomes from climate change, a more rapid move to clean energy would also pull the rug out from under petro-dictators like Putin." Addressing the longer-term security challenge Prof. Sikorsky pointed out that, "the geopolitical reality is that countries with economies rooted in oil may not transition without a fight." But she closed with the warning: "The longer we wait, the slower we go, the harder and more painful it gets."
Prof. Dr. Grimm noted the costs we are already facing:
"We have very long relied on the cheapest alternative, gas supplies from Russia. We haven't diversified because of the price […] but we will now experience that resilience is costly, energy security is costly, security per se in Europe will be costly." In addition to the consequences economists are now warning about, Grimm called attention to the risk of not halting oil and gas imports: "What are the long-run consequences of financing the war?"
Kern extended the discussion to socio-political risks:
"The situation I fear is that we'll have no choices if there is a further escalation of the conflict [with Russia]. If we do not cap gas prices, this could cause extreme social damage […] and an immediate backlash—and would definitely prevent us from reaching our climate targets." Considering this nexus of factors, Kern explained, "We have a triangle of concerns: we need secure energy, clean energy, and affordable energy."
Galiteva underlined how renewables address security and climate risks, along with offering a growing price advantage:
"The lowest cost resource on the grid, by far, are renewables and we should be transitioning faster. If we want the highest value, most diverse, most reliable grid, it has to be reliant on renewables. And, of course, on the technologies that support the renewables, so we can reliably operate 365 days a year, 24 hours, 7 days a week, every hour of every day."
Pointing to the centrality of reliable energy regulation that prioritizes renewables, Hossfeld stated:
"Today there is more capital sitting on the sidelines, waiting to invest in [renewable energy] manufacturing, infrastructure, and projects, than I've seen in 15 years. All they're looking for — given how long it takes to build — is a stable policy framework to guide that investment. This is an outstanding opportunity for policy-makers to put in place that framework and unlock hundreds of billions or trillions of dollars in a pretty short time frame to achieve decarbonization."
His statement reinforces the Transatlantic Sun & Wind Belt's core policy demand in both Germany and the U.S. The initiative advocates for a joint regulatory framework that will enable investors, along with renewable solution providers across the entire value chain from manufacturing to transmission to storage, to scale up funding and production and thus to achieve the energy transition faster.
Transatlantic Sun & Wind Belt co-founder Milan Nitzschke (CEO SL Naturenergie) concluded: "There's nothing more peaceful and secure than an energy source you don't have to fight about because it's ubiquitously available and affordable to everyone."
The organization will continue to roll out events and advocacy efforts throughout 2022 together with the roundtable's facilitator, Berlin-based cleantech strategy agency DWR eco.
Link to event: https://youtu.be/QTqp5IhUNtc

About the Sun & Wind Belt
The Transatlantic Sun & Wind Belt is the first German-U.S. business initiative to promote the acceleration of the transition to renewable energies and the green transformation more broadly, aiming to drive in-depth cooperation between the United States and Europe. Founded in 2021, the group has gained support and engaged participation from the largest private sector actors in the renewable energy sector on both sides of the Atlantic. With the goal of establishing a stable and transparent joint regulatory framework that prioritizes renewable energy, the Sun & Wind Belt initiates dialogue with political stakeholders and promotes the exchange of expertise, best practices, and investment between the U.S. and Germany—the two largest market-based leaders in renewable energy development and deployment.
https://sunandwindbelt.com/wp-content/uploads/2022/11/BETD-1.png
496
950
falk.bege
https://sunandwindbelt.com/wp-content/uploads/2022/06/LOGO-SW_WEB-abstand.svg
falk.bege
2022-03-29 17:14:00
2022-11-30 16:31:57
U.S.-German clean energy initiative Sun & Wind Belt puts spotlight on security