Leases Awarded for 1.3 Gigawatts of North Carolina Offshore Wind
By Christian Roselund
On 11 May, the U.S. Department of the Interior announced the winners of an auction awarding two lease areas off the coast of North Carolina that together can host 1.3 gigawatts of offshore wind. After 17 rounds of bidding Total Energies placed the winning US$160 million bid for 54,937 acres and Duke Energy placed a winning $155 million bid for 55,154 acres. Both sites are located in the Atlantic Ocean south of Bald Head Island.
This sale follows on a US$4.4 billion auction of six lease areas off the coasts of New York and New Jersey in February. These are the first two of seven offshore wind lease auctions that the Biden Administration is planning to hold through 2025. The next will be a sale for lease areas off the coast of Northern & Central California, which the Interior Department plans to hold in September 2022. By the end of 2022 Interior also plans to hold a lease auction in the Gulf of Mexico.
Developers are not waiting for auctions to plan projects. An analysis by Lawrence Berkeley National Laboratory found that developers had applied for 61 gigawatts of offshore wind projects at the end of 2021. However, the same report found that only 19% of wind projects that applied for interconnection between 2000 and 2015 were completed, meaning that less than 20 gigawatts of that is likely to get built. CEA research found that many of these projects are in the Mid-Atlantic and New England regions, where the offshore wind industry is more developed.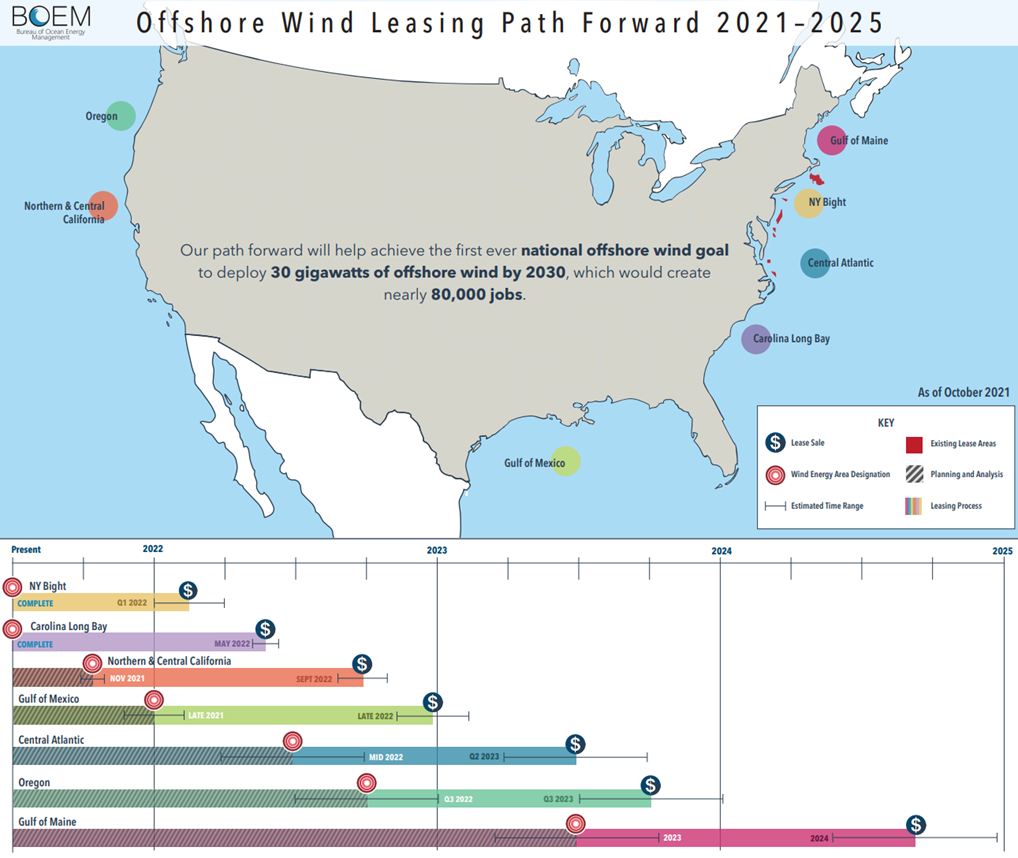 But if the offshore wind industry is more developed in the Northeast, the need for it may be greater in states such as North Carolina. Land wind speeds in the Southeastern United States are consistently lower than those in other parts of the country, and such states in "the South" (other than Texas) host very few wind turbines.
Due to a lack of hourly and seasonal correlation between wind and solar in most geographies, many models for high levels of renewable energy show that a balance of wind and solar works best in most regions. As such, offshore wind could provide a way for these states to better meet evening and overnight demand as they add more solar.
However, there are fewer policy drivers for offshore wind in the South than the Northeast. New York and Massachusetts have mandates to add offshore wind, and in Rhode Island the state legislature is considering a bill to include this requirement. By contrast, while North Carolina Governor Roy Cooper issued an executive order calling for 2.8 gigawatts of offshore wind by 2030, this does not have the force of law.
Duke Energy, the state's largest utility, has also filed plans calling for 800 MW of offshore wind by 2030, but has not yet received approval from North Carolina regulators to build or procure this wind. Additionally, North Carolina and Virginia are the only states in the South to host renewable energy mandates, which include credit systems for renewable energy sources. Such policies are commonplace in much of the rest of the country.
There are other challenges to developing offshore wind in the United States. Chiefly, the "Jones Act" of 1920 requires that goods transported between ports in the United States must be transported in ships built, owned, and operated by U.S. citizens or permanent residents.
There are no large wind turbine installation vessels (WTIV) in the United States, although Dominion Energy is currently building a $500 million WTIV that it expects to be online in 2023. Until then, offshore wind developers are hiring foreign-owned WTIV and Jones Act-compliant feeder vessels to deliver materials to these ships.
Read more:
News coverage/analysis: NC offshore wind auction pits ambitious federal goals vs. hesitant state policy (S&P Global)
https://sunandwindbelt.com/wp-content/uploads/2022/06/LOGO-SW_WEB-abstand.svg
0
0
Sophia.Tischinger
https://sunandwindbelt.com/wp-content/uploads/2022/06/LOGO-SW_WEB-abstand.svg
Sophia.Tischinger
2022-05-19 01:06:12
2022-05-19 01:06:15
Leases Awarded for 1.3 Gigawatts of North Carolina Offshore Wind